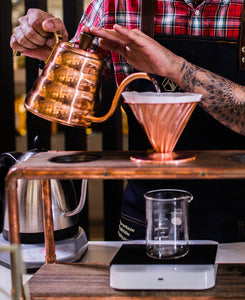 The Coffee Academics Singapore
Perfect Brew - Hand Pour
Regular price
$85.00
$0.00
Unit price
per
Shipping
calculated at checkout. Only Local Shipping in Singapore available. Free Shipping for orders above SGD55.
This workshop is focusing on providing participants with a comprehensive understanding of the V60 brewing method and the skills they need to brew delicious coffee using this method.

Participants will learn the principles of the V60 brewing method, as well as the factors that influence the techniques and recipes used in the brewing process such as origin, roast date, roast level and type of brewing vessel. Furthermore, participants will have the opportunity to practice brewing coffee using a V60 brewer and evaluate their flavors and characteristics.

Our experienced baristas will provide hands-on guidance and support throughout the workshop, ensuring that participants have the opportunity to learn and practice the V60 brewing method in a safe and engaging environment.

This will be a fun and eye-opening experience for participants as they will be equipped with the knowledge and skills to brew delicious coffee at home.

Venue: Millenia Walk (#01-26)
Duration: 1 hr
Class Size: Min. 2 participants, Max. 4 participants
Course Outline
1. Introduction to brewing
2. Understanding brewing method with a step-by-step explanation of the brew process
3. Getting to know tasting notes and variables to consider when brewing coffee
4. Using of SCA Aroma Wheel & SCA Tasting Wheel to describe the notes of the coffee
5.
Getting hands on experience with brew equipment 
Important
Participants who fail to produce valid proof will not be able to join the class and no refund will be issued.
Cancellation Policy
All sales are final, strictly no refund for cancellation. A one-time rescheduling of workshop date is allowed with a 5 days notice period.
For rescheduling or corporate/private workshops, please write in to us at contactus.singapore@theacademicsgroup.com.
Dine-in with us on the same day and enjoy a 10% off your food and beverage bill.   
---