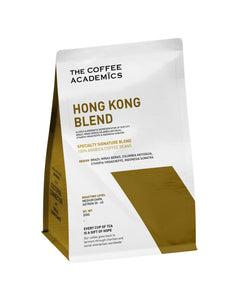 The Coffee Academics Singapore
Hong Kong Blend
Regular price
$20.00
$0.00
Unit price
per
Shipping
calculated at checkout. Only Local Shipping in Singapore available. Free Shipping for orders above SGD55.
This blend is an exquisite fusion of 5 single origin coffees, each with characteristics to honor the city of Hong Kong.
With a medium dark roast, the inspiring mix of citrus and rich complexity is balanced with a dark chocolate finish, symbolizing Hong Kong's energetic and diverse culture.
Tasting Notes
Full Body · Dark Fruit · Dark Chocolate

Origin
Colombia, Ethiopia Yirgacheffe, Brazil, Ethiopia Sidamo, Indonesia Sumatra Mandheling

Varietal
Caturra, heirloom, Catuai, Mundo Novo, Rasuna, Catimor

Process
Fully Washed, Pulped Natural, Wet Hulled

Altitude
900 - 2000 m.a.s.l


Contains
200g Whole Roasted Coffee Beans
---