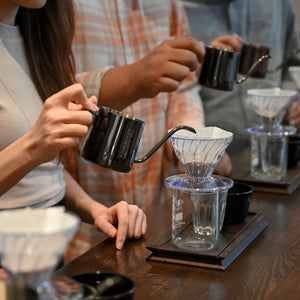 The Coffee Academics Singapore
Coffee Brewing
Regular price
$85.00
$0.00
Unit price
per
Shipping
calculated at checkout. Only Local Shipping in Singapore available. Free Shipping for orders above SGD55.
This workshop is focusing on the 2 essential brewing methods used in the coffee industry - Espresso & Hand Pour.

For Espresso - Participants will learn the fundamentals of espresso calibration and the key variables that affect the flavours of the coffee.

For Hand Pour - Participants will learn about the 2 main equipments used for pour over and full immersion brewing, how to use them, as well as their key differences.

This will be a fun and eye-opening experience for participants as they will be equipped with the knowledge and skills to brew delicious coffee at home or in a professional setting.

The workshop will be conducted in a relaxed and enjoyable atmosphere where participants can learn, share their passion for coffee, and make new friendships and connections.
Venue: Millenia Walk (#01-26)
Duration: 1.5 hrs
Class Size: Min. 2 participants, Max. 4 participants
Course Outline
1. Introduction to brewing
2. Understanding the brewing method with a step-by-step explanation of the brew process
3. Tasting of the brew and understanding the tasting notes
4. Using of SCA Aroma Wheel & SCA Tasting Wheel to describe the tasting notes of the coffee
5. Hands on experience with brew equipment

Important
Participants who fail to produce valid proof will not be able to join the class and no refund will be issued.
Cancellation Policy
All sales are final, strictly no refund for cancellation. A one-time rescheduling of workshop date is allowed with a 5 days notice period.
For rescheduling or corporate/private workshops, please write in to us at contactus.singapore@theacademicsgroup.com.
Dine-in with us on the same day and enjoy a 10% off your food and beverage bill.   

---